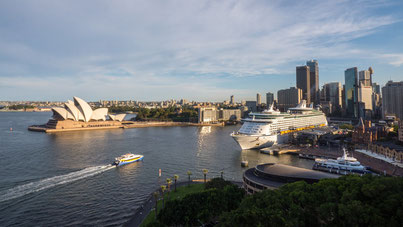 To the pictures of the Mainland

It felt strange to arrive in metropolis like Sydney after spending several months on smaller islands with no big cities. Despite I´m no big city enthusiast, I still felt strangely home. Maybe because I visited Sydney with my family already once 14 years ago or as the city is a known melting pot for immigrants all over the world and I found several Swiss bakeries, German beer gardens and other European food and influence.
The weather was far from great, it was mostly clouded and raining faintly. That didn´t really matter, as I like the famous area around the Opera house and the Harbor Bridge anyway better by night, when illuminated by strong lights and the occasional firework above the sky of the Opera.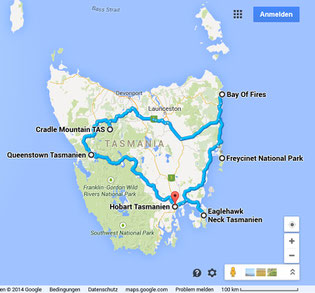 Three days in Sydney were enough big city hustle and bustle and I flew expectantly to Hobart in Tasmania. When the Hertz employee gave me the key to the booked Campervan (a Kia Carnival van, with a bed/sofa, a table, some cutlery, and a portable gas stove) I was mildly surprised. They charged me about half the price that was quoted in the booking. I kept silent and gladly accepted the lower price, as traveling in Australia is clearly straining my budget. So far I didn´t find out if the booking quote was wrong, or the actual invoice.
After buying supplies I made my way to the Tasman peninsula to the Fortescu Bay Camp site. Many sites are run by the state, and you only pay 60 Australian Dollars for a two months visitor pass for the National Parks and the camp sites. Basic toilets, no other amenities, no running water, but spectacular settings. Wallabies (small kangaroos), opossums, echidnas (similar to a hedgehog) and various birds are abundant. After a tasty BBQ (meat here is incredible good and cheap, compared to Switzerland) I was sitting and reading outside the van, when I suddenly felt something biting into my shoes. I guess the opossum thought that this must be some tasty Swiss cheese… I was as startled as the opossum, who fled immediately after realizing that his supposed evening meal was still alive ;-)
The Tasman Peninsula is home to the highest cliffs in Australia, and offers some nice bush walks, with easy wild life spotting. I stopped counting the wallabies, as there are just too many. I also glimpsed two poisonous tiger snakes, fortunately they´re not aggressive at all and just flee when a hiker passes.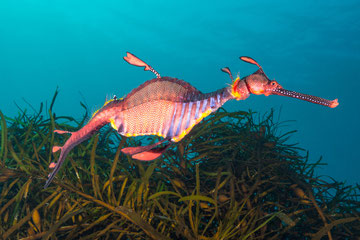 The weather was perfect for the hiking (25C, a breeze, low humidity), but the water was rather temperate (14-16C). Quite a difference to the cosy 26C just a week earlier in New Caledonia. But with the right diving equipment (1mm neoprene shirt with hood, 5mm long-john suit, 5mm jacket with hood, gloves, socks, thick booties) it´s bearable, especially when the dives are spectacular. And indeed they were good, no great. On two dives I could interact with playful seals, on two others enjoy the natural light shows in the mystique kelp forest (giant kelp is up to 20m high, and grows under perfect conditions up to 30cm per day!). But my favorite dive was the "Weedy sea dragon hunt". This amazing creature is related to the seahorse and can only be found in Southern Australia, and since I saw a picture of it in a Fish ID book, I put it high in my personal  "To see before I die" list. I was warned that there is no guarantee to see one, and that it is hard to spot them. As often, I was the first diver in the water (I learned to dress and get ready for the dive fast during my internship as dive guide in Egypt), and I immediately spotted the first Sea dragon. And a very special one, a male carrying eggs! And during the next 50min in the cold water we spotted another four dragons. Unbelievable!
After an unspectacular day of hiking in the Freycinet National Park I moved on to the Bay of Fires, where white sand, blue sky and red rocks create a picture perfect location. One would assume the name "Bay of fires" relates to the rocks turned blood red by lichen, but the name comes from European explorers who saw various tribal cooking fires at the bay. Today fires are strictly prohibited in this National Park, but the name still perfectly fits
.
To get to the last stop of my Tasmania round trip I had to drive around 250 km inland. Sounds easy, but it´s extremely exhausting if around half of the way is on windy roads that were only slightly wider than my Campervan. The famous Cradle mountain national park that is supposed to be Tasmania´s top site is in my opinion overrated. The scenery with the mountain lake, the rugged peaks and the vegetation are nice, but not extraordinary. The only really memorable event was my encounter with a Wombat. It run for a while in front of me, then waited and let me stroke it. It purred like a cat, but I´m not sure if that´s a threatening behavior or an expression of well being. The other close encounter with wildlife was unfortunately rather sad. A wallaby jumped out of the forest directly into my car and I hit the animal head-on with the left-side front spoiler. I couldn´t find any carcass, and also the damage to the car was limited to a few superficial scratches, it seems that the wallabies can stand to such a punch.
The flight to Melbourne with Jetstar was slightly delayed, as the company encountered some IT problems. After arrival I picked up the rented Nissan Pulsar, which is about half the size of the Campervan in Tassie. I wanted to go also here for a van, but I was too late for booking and as December is the main travel season for South Australia every single suitable Van was already reserved.
To the pictures of the Mainland
Previous destination: New Caledonia
Next destination: South Australia