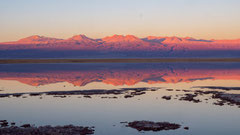 Skipping most of Argentina – although Patagonia is high on my "to travel" list, but Winter isn´t the most enjoyable time to visit the deep South – I flew directly to Salta in the North of Argentina as the center point for visiting the various natural attractions in the province.
The capital itself is named "La Linda" ("The beautiful"), but lacks of major attractions. Beautiful churches, parks and a rustic Swiss built cable car to the San Bernardo hill overlooking the city are the main draws. More important, the city is the tour operator hotspot for the following attractions:
Tren de las Nubes ("Train to the Clouds") is one of the highest railways in the world, taking its way across the high peaks of the Cordillera de los Andes. Unfortunately, by governmental decision the business was shut down due to safety issues directly before I arrived.
River rafting Rio Juramento (class III, intermediate), an easy two hours raft surrounded by striking sceneries and Condors circling above our heads. Interesting fact about Condors: The birds are monogamous, the couples stay together until death. If the male dies, the surviving female looks immediately for a new partner. If the female dies first, the partner commits suicide by jumping head first from the highest drop off wall of the surrounding mountains. Therefore, the (male) Condor serves often as symbol for loyalty and decorates several flags (i.e. flag of Ecuador).
Hills of the Seven Colors and Painter´s Palette: Several layers of the mountain ranges are variously colored, including brown, yellow, red, purple, green and gray. This unique color range is the product of a complex geological history including oxidation of marine sediments and the movement of the tectonic plates.
Salta and its surrounding attractions is elevated between 1500 and 3500 masl (meters above see level), and during the night a thick blanket or a sleeping bag is handy. A perfect acclimatization area for my next stop, San Pedro the Atacama in Northern Argentina. After an eleven hour overnight bus ride and the border control at the Paso de Jama (4200 masl) I arrived the village of San Pedro (2000 inhabitants, 2500 masl) in the Atacama salt flat. A dusty, one story clay building dominated village, with a lively restaurant/bar and tour operator scene.
The village´s disadvantages are made good by far by the circumjacent volcanos (among them the perfect cone shaped summit of Licancabur (5900 masl) or the still active Lascar (5600 masl)), beautiful salt and freshwater lagoons, geysers and salt lakes and abundant wildlife including foxes, rabbits and the Vicuña, a wild relative of the llama and Alpacas which lives in the high alpine areas of the Andes (3200 to 4800 masl) and produces extremely fine wool. As it can be shorn only every two to three years and it must be captured for shearing, the wool is pricy, and a vicuña wool scarf costs around US$2,000! Money better spent for some more excursions and travelling!
Previous destination: Brazil
Next destination: Bolivia