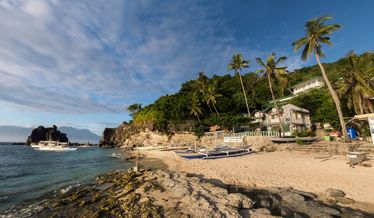 One day late I arrived in Dumaguete, the provincial capital of Negros Island, where I was picked up by van from the Apo Island lodge. After half an hour drive through the rush hour we reached the small port of Malatapay, the gateway to Apo Island. The typical local Bangka boat was packed with supplies for the island, mainly drinking water, beer, fresh fruits, salads and heaps of freshly catch fishes. Only a handful of locals live on the tiny island, and two dive resorts on the island offer quite basic accommodation, with no running water, only sporadic electricity, but more or less reliable wifi connection.
The dive spots around the marine sanctuary of Apo are supposed to be among the best in the Philippines, but the first dives were a slight disappointment. As the sea was quite rough the previous days, the visibility sank, and due to death in the family most dive guides were absent. Instead of having my private guide, which would be available for only a couple of Dollars surcharge, I had to join "enormous" diving groups of up to eight divers. Nonetheless, there were several highlights, such as the omnipresent turtles, the common sea snakes, beautiful nudibranchs and two critters that I haven´t seen before, the tiny hairy Orang utan crab and the well camouflaged Ornate ghost pipefish hidden in a Feather star.
I met great people here (not the overly noisy Chinese group) and the lodge´s restaurant offered delicious local and western dishes, with tables overlooking the beautiful bay and terrific unreal sunsets, so I still enjoyed my stay here, despite that my expectations of diving quality wasn´t met.
Shortly before my departure I heard first of tropical storm AMANG hitting the Phillipines in the North East. Due to the lack of warnings during the 2013 typhoon and the resulting criticism of the authorities, they changed now to an overcautious approach. Despite the sea around Dumaguete and Cebu was extremely calm and flat, a travel warning was issued and some ferries cancelled the trips, among them my fast ferry to Bohol. I got stuck a day in Siquijor, a smaller island between Dumaguete and Tagbilaran on Bohol and I did also check out the diving here, before finally reaching Cabilao, my next top diving destination in the Philippines.
Previous destination: Palawan - Coron

Next destination: Bohol - Cabilao