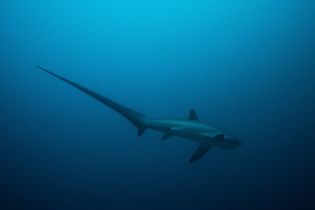 A local bus brought me in five hours from Cebu, the capital of the equally named island, to Maya at the Northern tip of the island. Another half hour Bangka ride later and I set my feet on the tiny island of Malapascua, renowned among divers for thresher sharks. It´s only place in the world, where you can see almost guaranteed the thresher sharks during their early morning visit at the cleaning stations. In around 30 to 40m depth they circle around spots where a myriad of smaller cleaner fishes are waiting to do their job. And the thresher sharks are a pretty relaxed bunch, even if there are dozens of divers around, they just ignore us and sometimes pass by just in front of the eagerly waiting divers. Well worth to wake up at 5AM. There are also supposed to be some hammerhead shark around, but I wasn´t among the lucky ones who saw this massive, but quite shy shark.
The corals around the island were amazingly abundant until 2013, when super taifun Yolanda hit the island with full power. All corals in shallower and exposed parts were eradicated. Soft corals are now slowly recovering, but it would take centuries for some of the hard corals to reach the former grandeur.
Despite the vast destruction of the corals, there are some other highlights underwater not to be missed. The beautiful, but fearsome Mandarin fishes hide during the day in corals, but exactly at sunset they slowly rise for mating. After a 20 seconds quicky, they cover again in the corals, just to repeat the show a couple of more times until the sun is fully down.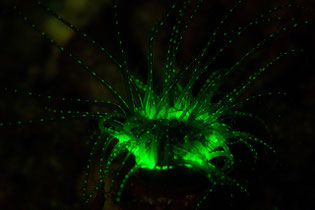 For the first time in my diving career I had the opportunity to do a fluorescence night dive. Equipped with a special blue light torch (Sola NightSea), a filter on top of my diving mask and a makeshift filter for my camera we went looking for an uncommon and magic world. Blue LEDs cause proteins and minerals to fluoresce brightly in green and orange/red. Especially anemones and corals shine brightly, but also some fishes have some fluorescent parts. For sure, this wasn´t my last fluoro dive!

Most Filippinos are strong Christian believers, and most of the buses, minibuses, vans and boats display some religious slogans, such as "In God we trust". On the side of the Bangka boat from Malpascua to Maya on Cebu mainland they painted "It´s nice to be ride with Jesus", and the boat´s name was ironically "Warlord 2" ;-)

Back in Cebu I first had to get a Visa extension, as the tourist visa grants only a 30 days stay. Conveniently they opened last year a satellite visa office in a big shopping mall, no need to go to a grumpy official administration building.
Previous destination: Bohol - Cabilao

Next destination: Southern Leyte – Padre Burgos