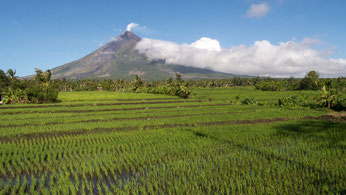 After 5 weeks of diving in the Philippines I needed some change to spice up the journey, and went exploring the active volcano Mayon in Southern Luzon. It was a hell of a bus ride from Padre Burgos in Southern Leyte all the way North to Legazpi. Over 21h journey, no aircon and a crazy bus driver confusing the windy roads with a formula 1 race track!

But in Legazpi I got rewarded the next day with almost perfect weather and a beautiful view on the smoking Mount Mayon. It´s one of the most photogenic volcano worldwide because of its almost symmetric conical shape (similar to Mount Fuji in Japan). Unfortunately, due to it´s current activity it´s not allowed to hike to the rim at almost 2500 m.a.s.l.
The last tragedy occurred in 2006, when a typhoon brought heavy rain and caused enormous mudslides that erased entire villages around the volcano and killed over 1200 people. Nowadays living close to the volcano is banned, but the extremely fertile grounds are perfect for rice plantations.

The day after I went to Donsol, on of the most known places in the Philippines to see whale sharks. But compared to my previous experience in Padre Burgos, this excursion was rather disappointing. Extremely touristy (15 boats with 4 to 6 snorkelers each, chasing a few whale sharks) and bad visibility in the murky water. Nonetheless, we encountered closely three whale sharks. It´s understandable, that the gentle giants here dive almost immediately deeper, as soon as dozens of snorkelers jump from various boats into the water. In Leyte I could accompany them for 10 minutes or more, without disturbing them. I sooner run out of breath because of the fast swimming, than they run out of patience.
That´s the end of my extensive Philippines trip, I move on for three weeks to Japan and then to Taiwan. Both countries are not known to the Western diving community, but they offer some secret diving gems, and of course also a unique culture and culinary experience not to be missed.

Previous destination: Philippines - Southern Leyte - Padre Burgos

Next destination: Japan