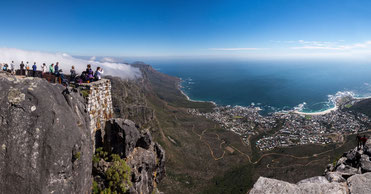 Africa, one of the most challenging but most rewarding continents to explore. The first difficulty arose already before arriving in South Africa. When I was planning the Africa trip, all countries on the itinerary required no visa for Swiss citizens or they grant visa on arrival. But for unknown reasons Malawi introduced the visa obligation for Swiss people. According to rumors, the wife of the Malawian president had issues to obtain a Swiss Visa and as consequences they punished all Swiss visitors with the new obligation. I had therefore to change my itinerary. Instead of connecting to Cape Town directly after the arrival in Johannesburg I had to stay three days in Joburg and visit the Malawian consulate for four times… First time on Wednesday, but it was closed. I called them several times and wrote E-Mails upfront, but I never got any reply. And the opening hours weren´t published on their homepage. On Thursday I could finally hand in my application. Early morning next day I visited them again. Good news, the Visa was approved. Bad news, they do not accept credit cards or cash, but only bank transfer. So I had to go to the next bank, transmit the money and finally at Friday 11.30 AM – half an hour before they close the consulate – I got my visa sticker. Traveling can be sometimes quite annoying.
I used the spare time to explore the city. More than 5 million inhabitants, strategically unfavorable located (no lake, no river, high altitude) and not too many highlights beside the must do Apartheid museum and other historically interesting places such as the Constitution hill.
On Saturday finally I could travel onward to Cape Town which offers a myriad of interesting excursions. Unfortunately I had only a single day left to my disposition, before the Overland Truck trip to Nairobi with Gadventures would start. So I had to focus on the absolute highlights of this area. Great white shark cage diving and the Table mountain.
An early pickup at 05.20 AM, then an hour drive to Simon´s town, followed by a briefing and half an hour boat ride to the Robben Island and we were ready to see the most famous predator of the seas. The Great whites are naturally attracted to that place by their favorite food, the seals. And several thousands seals inhabit the tiny Robben Island. Fish leftovers were towed to attract the sharks close to the boat and the attached cage with three snorkelers. And several times some massive Great whites passed by, circled the boat and attacked the bait!
The viewing underwater was constricted by murky water and only three meters visibility. The sightings from the viewing platform onboard were more exhilarating, as one saw the massiveness of the fish and their incredible speed attacking the bait. Not for the fainthearted, but a great experience.
Back in Cape Town I ascended the table mountain by cable car. Hiking would have been my first choice, but I run out of time and had to take the "touristy" way. Amazing 360 view, beautiful birds and lazy rock dassies (kind of a big rodent) have to be shared with thousands of other tourists on the plateau which looms around 1000m above Cape Town.
In the evening I meet the tour group for the onward journey. Guide Massivu and driver Anthony from Kenya plus 20 travelers between 19 and 33 years old, all but one (Aussi) from Europe (Norway, UK, Ireland, Switzerland, Germany and Holland). Our truck – to call it a bus is a liable offence – is an Indian Tata with a custom made cabin with a capacity of max 24 guests. Huge heavy duty Iglu tents, matrasses and cocking gear are stowed in various compartments and other utilities such as charging stations, safe box and personal lockers are built in.
On the first full day we drove 300km to the Cederberg wine region and get to know each other better during a wine tasting and the following drinking and dancing. Despite a grumpy waitress and an annoying horny dog mistaking humans as mating partners we had good fun under an amazing star sky. Never before did I see the Milky Way in such a detail.
The next day, after a 350km ride, we reached Orange/Gariep river which forms the border between Namibia and South Africa. We "illegally" crossed the border from our campsite on the SA side by swimming, respectively walking through the shallow river. A perfect way to cool down and get rid of the dust. Later we had a great BBQ (locally called Braai) at the campfire. Huge steaks, dry ciders, cold beers and a fun tour group! Early next day, we crossed officially to Namibia, which was quite efficient and without any hassle. Unfortunately, the following border crossing will be more time consuming and annoying.
Previous destination: Hongkong

Next destination: Namibia