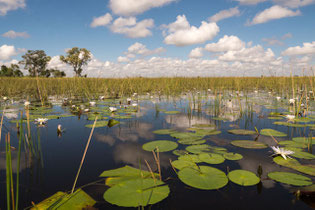 Day 14-17: After a speedy border crossing into Botswana and a long drive we slept nearby a bushman camp. Some bushmen try to keep alive the local traditions, such as hunting, healing and singing/dancing instead of drifting into alcoholism as many of their fellows do. But it's mostly show for the tourists, they were hardly able to start a fire traditionally and they drove a Toyota pick-up. I'm sure, after the show they change their traditional cloths immediately to jeans and shirts and send some instant messages on their mobiles…
Next morning we arrived in Maun, the gate town to the world famous Okavango Delta. The rivers meets the flat land and widens extremely to a delta, until all water disperses. On the scenic flight in a small four seater plane the myriads of small river arms were visible, like blood vessels of the landscape. In addition we spotted herds of elephants, giraffes and also some hippos.
By a local mokoro, a dugout canoe for two guests pushed forward by a local with a long wooden stick (similar to the gondoliers in Venice) we ventured deep into the delta. The water ways were full of beautiful sea roses and amazing, but shy kingfisher birds. We pitched the tents on one of the many islands in the delta, without any amenities. But with zebras, elephants, buffalos and big cats. Next morning on a walking safari we spotted some zebras, but (fortunately) no dangerous animals, as our guides were only armed with walking staffs…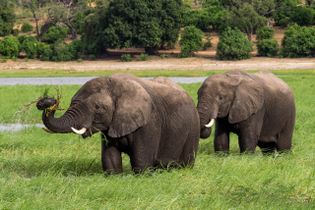 Day 18-19: Along the so called "Elephant highway" we spotted again various animals when we moved towards Chobe national park. The following sunset cruise on the Chobe River offered a perfect opportunity for great shots: Hippos and elephants grazing in the knee-deep water, crocodiles waiting patiently at the river board, beautiful water birds and herds of gazelles stilling their thirst.
Previous destination: Namibia

Next destination: Zambia