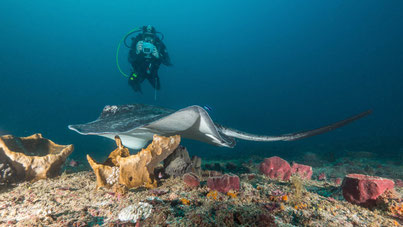 I took the plane from Nairobi to Maputo, capital of Mozambique. Scheduled to depart at 07.00 it was postponed to midday, without informing the guests… Instead of sleeping in, enjoying a tasty breakfast and saying goodbye to my fellow travelers I wasted my time waiting at the airport. After a night in Maputo I took the early morning mini bus to Tofo in the North, famous for manta ray diving. The boat launches are spectacular. The rigid-inflatable boat (RIB) is pushed into the shallow water by a tractor, then all divers help to push it into deeper water before jumping onto the tubes. You put on lifejackets, stick your feet into the holders on the ground and grab with both hand the safety ropes, before the captain tries to cross the high waves before reaching the calmer water. Once we almost flipped, as the boat was hit by a gigantic wave and filled completely with water, but the captain finally managed to find an opening with lower waves.
The dives are spectacular, quite deep, some current, huge manta rays, potato bass, turtles, leopard sharks and schools of travelies (also called jacks). As there is no pier, the captain steers the boat after the dive with full speed onto the beach! Wise to hold on tightly, when the RIB hits the beach it stops quite brusquely!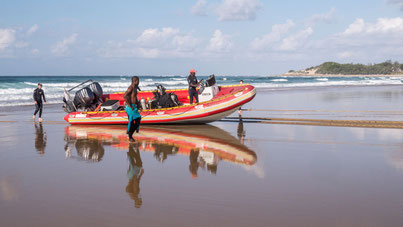 I could have stayed much longer, I really liked that place! I was there during off-season, with very small and experienced diving groups. If only my feet would not have troubled me. Caused by the grazes from flippers in Uganda, the wounds infected and festered. Normally I try hard to avoid any medications, particularly antibiotics, but there was no way to get rid of the infection without taking them.
From Inhambane (city close to Tofo) I flew to Joburg. Again a bad experience with LAM, the national airline of Mozambique. My plane should depart at 14.35, and at 11.00 on the same day I received an E-mail with an updated schedule, flight departing at 12.50! I didn't see the E-Mail in time, but fortunately I reached the airport anyway early enough to just board the plane. Check-in, passport control and boarding in less than 10 minutes!
Previous destination: Kenya and Uganda

Next destination: South Africa, Swaziland and Lesotho