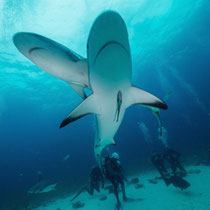 Day 0: Neither did I miss the early morning flight to London, nor did I go to the wrong airport (both happened to me already more than once ;-) No troubles at the airport, the check-in bag isn´t too heavy, and the handbag (40l backpack) containing laptop and underwater camera was accepted, although it slightly exceeds to official maximum dimensions.
I planned originally to stay a week on diving live aboard, but strangely all were fully booked, despite the low season (high season is in winter, when the Americans flock in Bahamas). I hoped for some last minute cancellations on one of the boats, but to no end. Plan B came into place, and after a night in Nassau I took the Bahamas ferry to Harbor Island, where diving and beaching were supposed to be excellent. The dive center was shiny and expensive (160 USD for a two tank dive with equipment), and the dives were among the worst I ever did. There were snorkelers, beginners and me on the same boat, and therefore the dive sites were selected to match the weakest part of the chain, meaning that we bobbed up and down in 3 to 10m depth...
I cancelled the remaining diving and spent my days on the pristine Pink sand beach, which stretches over 4km with maybe as few as a hundred persons scattered on it. As I still wait for the new Games of Thrones books, I started now reading the Wheel of Time of Robert Jordan, which is as captivating as Martin´s books.

The afternoons were spent with tasty local Kalik beer and football in the Marina beach bar (The round of 16 and quarter final games started locally at midday and at 4pm).
Back in Nassau, I finally managed to do some decent dives with pristine underwater ridges, wrecks and grey reef sharks en masse! Those friendly sharks (1-3m long) accompanied always the divers, and came really close at the controversial baited shark dive.
As tourism provide an estimated 60% of the gross domestic product (GDP) and around 85% of tourists come from the United States, the 4th of July was celebrated in Nassau with a parade (similar to carnival in Rio, but on a much smaller scale). The independence day of Bahamas (Thursday 10th of July), celebrating the 40st anniversary of the republic, was already commemorated with a big parade the Saturday 05th. Unfortunately I missed that festival, as I stayed with a cold and fever in my bed :-( I forgot to switch of the aircon during the night before, and the cold and dry breeze managed to knock me off for a day.
Next destination: Florida Keys