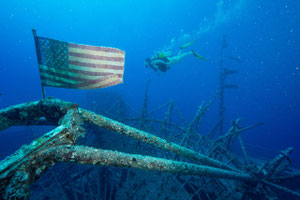 After a short hop from Bahamas to Miami – the flight attendants had merely time to finish the security instructions, before starting with the landing procedures – I picked up my budget rental car (red Mazda 2) and drove straight to Key Largo for some wreck diving. Key Largo claims themselves to be the "Diving capital of the World", this might be true for non-cosmopolitan Americans, but it´s an obvious lie to every passionate diver.
There are nice reefs, but far away from world top dive sites and the main attractions are intentionally sunken ships creating artificial reefs (Duane and Spiegel Grove in Key Largo and the infamous Vandenberg in Key West). The Spiegel Grove was sunk in 2002, but the operation failed, as the Spiegel Grove ended up laying upside down. At additional costs of a quarter million USD, the team managed to roll the ship at least onto the starboard side, instead of staying upright as intended. Where humans failed, nature succeeded. Powerful hurricane Denis hit in 2005 the coast, and lifted the wreck in a diver-friendly upright position! Unfortunately, the American dive centers are extremely profit driven, and in order to offer two half day two-tank dives per day with the same boat, the surface interval as well as the dive times are quite limited. Hard to leave a nice wreck in clear blue water, despite the tank is still half-full. But dive times (e.g. 30min at the Vandenberg) are strictly enforced, and if divers stay to long at the wreck, the coast guard will be notified…
Besides diving, I visited twice the Everglades by my own, spotting alligators, turtles, various birds and swarms of mosquitos. As summer is the wet season, the water level in the Everglades reaches substantially higher than in winter, therefore animals are harder to spot. While in winter, they gather around the few remaining poos, but they disperse in summer in the width of the park. On the other hand, far fewer people visit the park now, and I hardly saw other tourists.
The last day in Florida almost turned to a nightmare, as I lost a few hours before my flight to Rio de Janeiro the wallet on a super market parking. I still would have had passport, a credit card and a debit card, but ID, driving license and some cash seemed to be gone. Half an hour later, the wallet was delivered to the hotel reception by an honest finder! Thanks again, Lars, you made my day!
Before flying to Brazil and Argentina, I purchased a Swiss football shirt, I assume some Brazilian would bully me, guessing that I´m from Germany. Therefore I took the precaution, and will from beginning put the cards on the table and show my true colors.
Previous destination: Bahamas
Next destination: Brazil