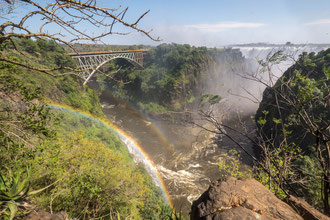 ZAMBIA
Day 20-24: Also the border crossing into Zambia was hassle free, and we soon reached our base for the next couple of days: Livingstone, next to the spectacular Victoria Falls. Again we went for a sunset cruise, but this time no one really cared about the wildlife (which was also much less abundant than in Chobe), as there was an open bar on the boat and it was the last evening for some members of our tour group…
I spent a full day at the Falls, trying to find the picture perfect spot and light situation. During that day I got robbed twice! Reckless baboons attacked from behind and stole a sandwich out of my hands and later also a bag of nuts. I officially declare baboons to be enemies of civilization (Oh, but they are so cute and it's anyway our fault… Blabla, they are a plague and the fearless ones need to be shot. This is done in Serengeti as well as in Kruger, if they get too accustomed to humans).
Zambezi River is known as one of the world best white water rafter. Particular with low water the rapids are world class and extremely challenging. Unfortunately the river level was already quite high and some girls in our raft wanted to avoid at all cost a flipping of the raft. We therefore often took the less challenging routes and missed most of the fun. Why do people go river rafting on Zambezi, when they are not up to some action??? Nonetheless, it was a nice boat ride, but by far not what I expected.
On the last day in Livingstone I viewed the Falls from a bird's perspective from a Microlight plane. Those planes offer two seats, and look like a hang glider with engine and propeller.

MALAWI
Day 25-29: As mentioned in the South Africa blog, I had to obtain prior to arrival entry visa for Malawi. Swiss and Austrians are for some dubious reasons the only Western Europeans that are required to get a visa. I spent 3 days in Joburg to get my visa, and one of my fellow Swiss travelers spent almost 500 USD to get the visa in Switzerland (visa fee plus insured express postage of passport to the Malawian consulate in Belgium).
But the effort was well worth it, as the famous Lake Malawi reimbursed us for all costs. White sand beaches, good quality fresh water and 29C warm. Beaching, sun bathing, beach volley, swimming were the favorite pastimes, and I could at long last unpack my diving equipment. Of course the dive sites can't be compared to the sea, but at least they were much more rewarding than the cold Swiss lake dives.
Behind our camp at the Chitimba beach loomed the Chombe table mountain. While most decided to sleep in, the two Swiss guys woke up early to conquer the mountain with a local guide. After weeks of sitting in the truck and doing almost no physical activities the hike was a great diversification of the daily life. But I paid the bill and had to bear some muscle sore the next days. But we spent the next two days anyway mostly in our truck as we headed North towards Tanzania.
Previous destination: Botswana

Next destination: Tanzania